Laurie Story Phonics Play Pages
These Trees PlaySheets:
Interactive literacy playsheets are linked with characters below
Lolly Spelling with Glee:

.......
Penny's Punctuation Practice:






Laurie's Stories ~ Putting the FUN in literacy FUNdamentals
because children deserve play time & literacy lasts a lifetime.
Be notified about our offerings including all free, updated & new




Laurie StorEBooks!




Thanks for keeping in touch!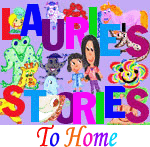 © 2000 - 2013 Laurie Story Vela, M.A. & Laurie's Stories
All Rights Reserved .........................................Web Site Copyright
E mail us at Laurie's Stories! & www.lauriestories.com